Today I wanted to talk about creative trends in video making. I hope the highlighted trends here will give you a creative boost. And add new ideas for your future video project arsenal.
You'll probably agree with me when I say that today, video has become a vital tool for your marketing. 96% of people have watched an explainer video to learn more about a product or service. 89% say that watching a video has convinced them to go ahead and buy.
Social media, explainer, and presentation videos are three of the most common types of videos companies create.
But what style should we use, what elements should we put in that video, and in what format should the videos be delivered? Check out the top creative video trends in this video.
Trends can provide a lot of inspiration, and help you find new creative paths to take your next video production in. And trends aren't necessarily new, often it's something that has been boiling for a while, and when it's gained enough recognition, we can call it a trend.
When developing assets and Camtasia templates for Callouts, I have my ear to the ground. I probably spend way too much time checking out what's popular, and what's appearing on the horizon. And this is a summary of new trends that I believe we will see much more of in the coming years, as well as some possible fads.
Creative Trends in Video
In most trend reports, you'll see industry-focused trends.
Here I instead try to focus on design elements I believe you will see much more of in e-learning, presenter, social media, and corporate instructional types of videos in 2023 and beyond.
I haven't placed the trends in any order. But it's really up to you to decide what trends you think will be important. In the video above, I've added a trend score, based on 15 years of creating assets for videos. This is really my gut feeling, and I'd love to hear what you think. Please comment below if you think I missed any important trends, or included trends that you don't believe in at all.
Trend 1: AI-Generated Videos (Enhancement and Generative)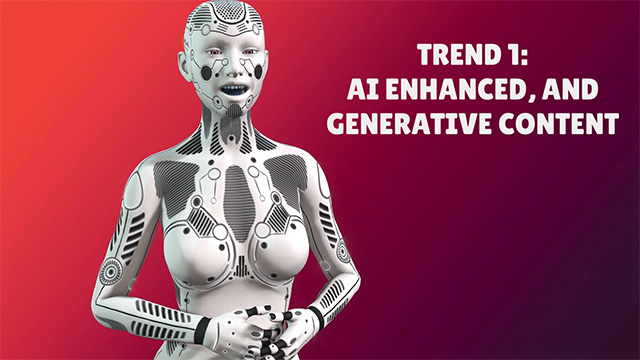 No question about it, AI is here to stay. 2022 brought us a large number of very creative tools for both text and image creation. I believe 2023 will be the year when AI will really conquer video as well.
We are just a few weeks into the new year, and new tools are released almost daily.
Many of these are focused on editing and improving video quality. Upscaling dimensions, removing objects from video, removing backgrounds, sharpening videos, removing artifacts, improving slow motion, and much more.
But this is just the beginning. I am fairly certain that we'll soon see advanced text-to-video creation and other tools geared toward AI content generation. Eventually, you will just need to write a text prompt and a video will be created based on your idea.
If you want to check some of these early tools out, take a look at Runway, Pictory, Descript, and Adobe Podcast among many others.
If you want to check out video content generators, take a look at Google Imagen and Metas Make-a-video, both soon to be released. Links in the description.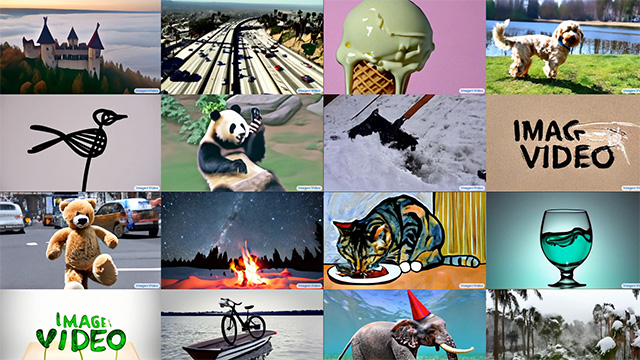 Trend score for AI Video Enhancement a ten out of ten.
And AI Generative video tools a nine, as it will continue to develop in the coming years, although development will be very fast.
Trend 2: 3D Elements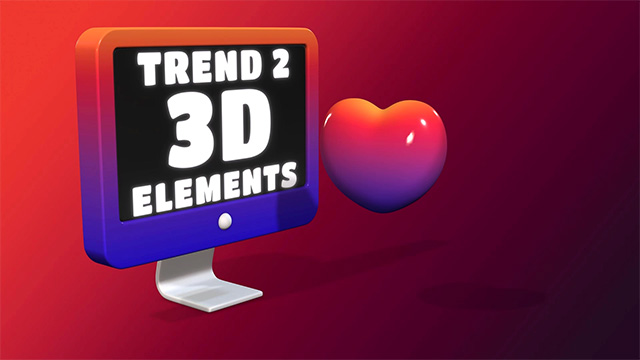 The 3D trend started showing a few years ago, and you'll probably see more 3D elements used in video everywhere in 2023.
Various trend reports claim that Facebook's Metaverse is driving this. But I've seen the 3D trend slowly growing way before any details about the Metaverse were released.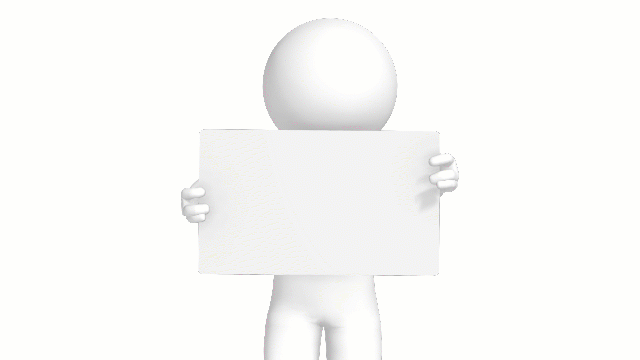 Instead, I believe the free access to 3D tools, and that these tools have become much easier to use, is driving this trend.
Check out Blender, Vectary, Spline, and 3D Builder, included with Windows, for example. On Callouts we have a huge library of both 3D Graphics and videos.
Here I created a free personal avatar with a tool called Avaturn.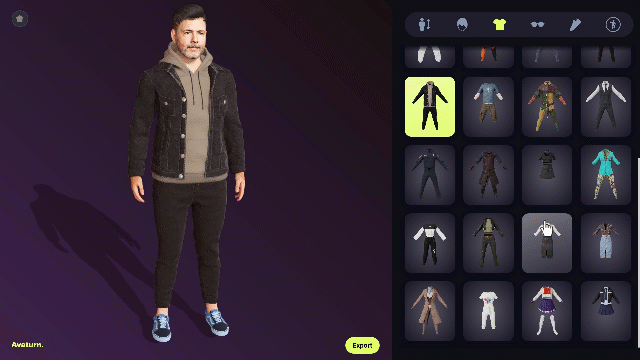 I personally can't get enough of this trend, and I'm looking forward to seeing what's in store for us.
The 3D Elements gets a 9 in trend score!
Trend 3: Blobs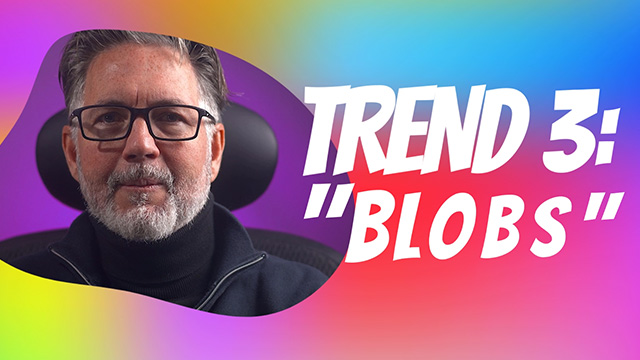 The third video design trend is Blobs. Blobs are amorphic colorful shapes. You can use them as background shapes, or mask text and images with them, for example.
Inject some fun and heartwarming effects into your videos.
If you pay attention, you've already seen blobs take the web design world by storm. Often to embellish webpages, enhance simple texts, and more.
I don't think Blobs will be a major trend, so we'll settle for a trend score of 5. Now it's time to animate these little blobs and add them to your videos. I love them, what do you think?
Trend 4: Distorted Typography and Elements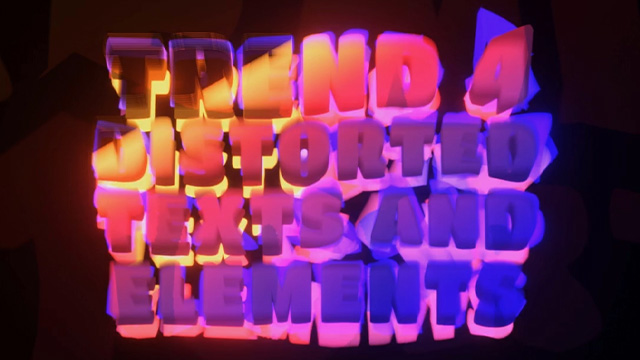 The fourth trend is Distorted Typography and Elements. Prepare to see more glitch effects, distorted texts, and huge fonts this year.
We've seen this in graphic design for a couple of years now, and it's high time to add some cool typography effects to your videos as well.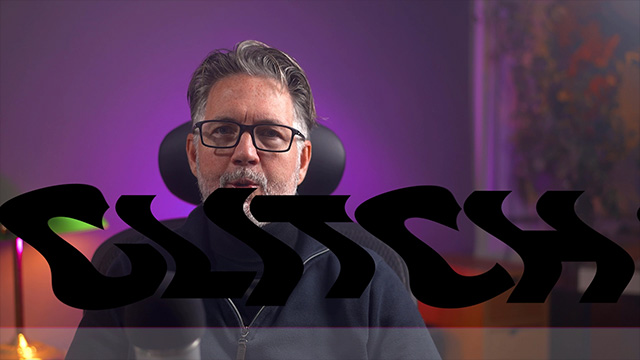 It will probably appear more in videos targeting Gen Z and Alpha, than older generations, but don't dismiss it. It can be used to inject motion and speed into your videos.
This trend will probably be held back a bit because it's difficult to create these distorted effects, and there aren't a lot of tools and templates out there, yet.
So even if I believe in this trend, it gets a trend score of four.
Trend 5: Retro/Nostalgia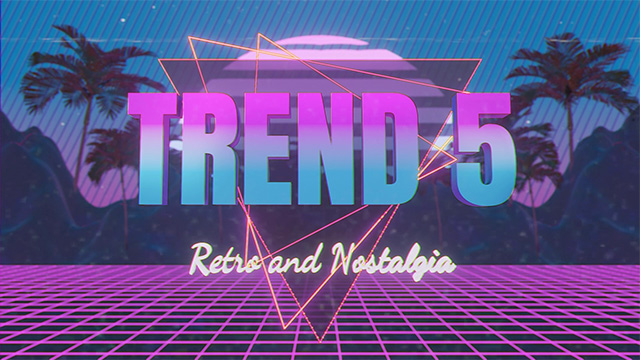 With all the talk about AI, Social Media, and technology, it's not surprising that we sometimes long back to simpler times.
The 80s, 90s, and Y2K with screaming colors, low-tech CGI, neon, cyber fonts, 16-bit graphics, chrome, and iridescent colors are coming back with a bang.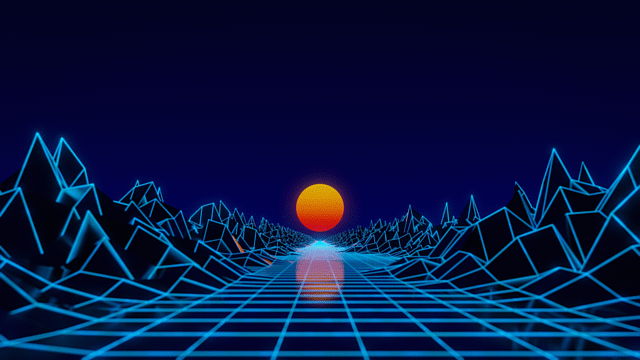 Let's also throw some Memphis patterns, and Miami Vice into the mix, and you have a full-blown trend.
And don't forget fonts and music. Spice up your videos with some 80s and 90s fonts and music tracks, and maybe some 8 bits sound effects.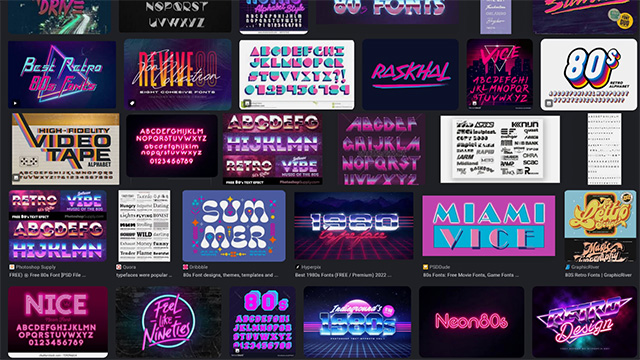 I for one long back to the good old days and have to give Retro and Nostalgia a trend score of seven.
Trend 6: Gradients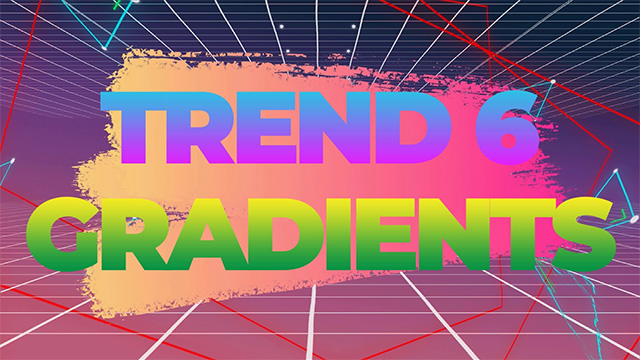 Trending for quite some time, and I for one, still can't get enough.
I love the soft soothing gradients. But don't just use them as backgrounds in your videos. Put some animation into it, mask it on texts, and there is so much more you can use them for.
This year, you will not only see soft gradients but more daring radiating colors will be used.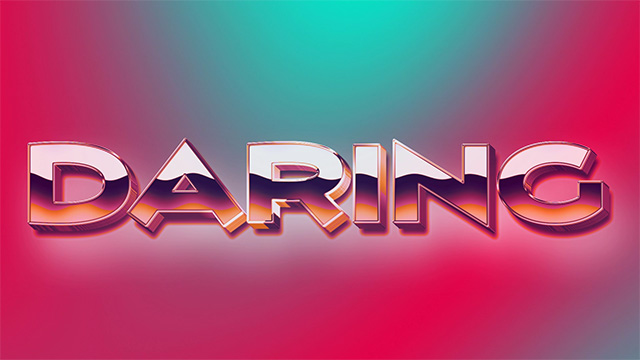 The latest Camtasia version also included some animated gradients in the library so be sure to check that out.
I use the gradient backgrounds from Callouts a lot in my projects, and as you can see in this video, I've peppered them all over. Probably too much…
The trend score is a solid seven!
Trend 7: Unpolished Videos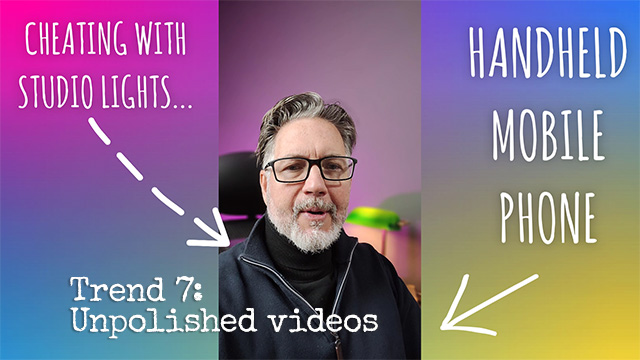 Tired of setting up lights, microphone, advanced cameras, green screens, and more… Then this next trend is for you. Trend seven is unpolished videos!
Unpolished content is making it into the company world. Driven by YouTubers and influencers, corporations are catching on, creating videos that look like they were made by a handheld mobile phone.
Just grabbing the mobile phone and recording can feel pretty liberating. But make sure the sound is good.
I bet we'll see a lot of creativity go into these scrappy videos going forward. Another clear upside to this is of course your video budget.
I also think this help build a personal connection between you and your audience, showing a real human being in front of the camera.
I think this will be a big trend going forward. Trend score for Unpolished videos – a nine.
Trend 8: Virtual Talking Heads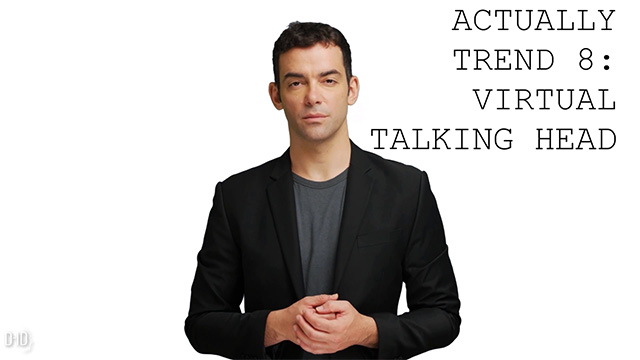 And trend number eight is… Virtual Talking Heads.
Virtual talking heads can be a 2d or 3d spokesperson which is driven by Artificial Intelligence. A bunch of companies have popped up with which you can create your own virtual talking head. Just enter the text, and AI will do the rest – you'll have your own virtual spokesperson.
Max Headroom comes to mind if you're old enough to have experienced the first kind of virtual talking head almost 40 years ago, back in 1985.
Virtual talking heads is definitely a novelty, but in my humble opinion we'll get tired of this soon.
And there is a scary backside to this as well. Probably sooner than you think, AI will be so good that we can no longer separate a real spokesperson from a virtual one, controlled by artificial intelligence.
I created this talking head using a service called D-ID which has a free trial.
New companies worth checking out are D-ID, used for my original video, Syntesia, Elai, and Revoicer.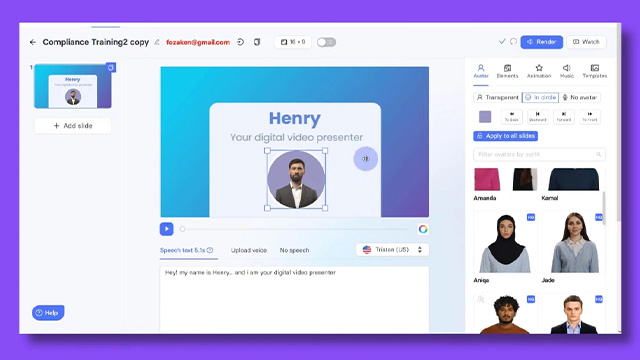 I am unsure about this trend. I do see the upside, especially for companies, to quickly create talking head videos at scale.
But at the same time, it reminds me of robocalls, not my favorite marketing tool.
Let's give this trend a three for now. Let me know in the comments if you disagree.
Trend 9: 360-degree Videos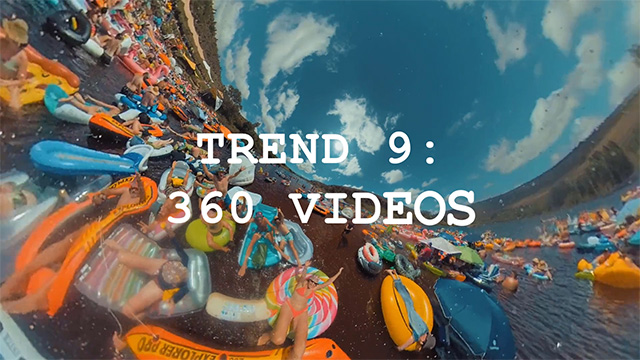 360 videos have been around for quite some time.
Several of the trend reports I covered when creating this video mentioned it as a trend, so I felt it should be included here, even though I personally am very doubtful.
I see few legitimate use cases for 360 videos. If you are working with travel, real estate or games/virtual worlds, it may make sense.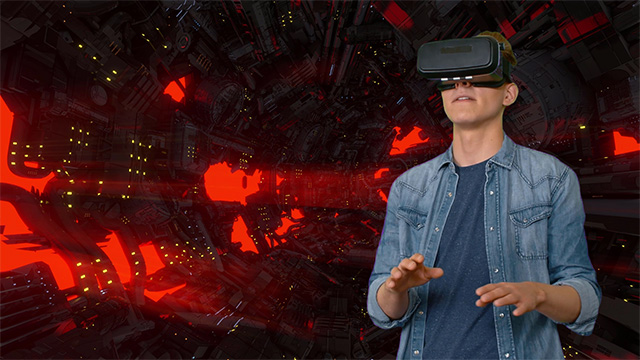 But overall, I would place this among fads, if it should be included at all.
360 Videos gets a trend score of 2 for now.
Trend 10: Animated Logos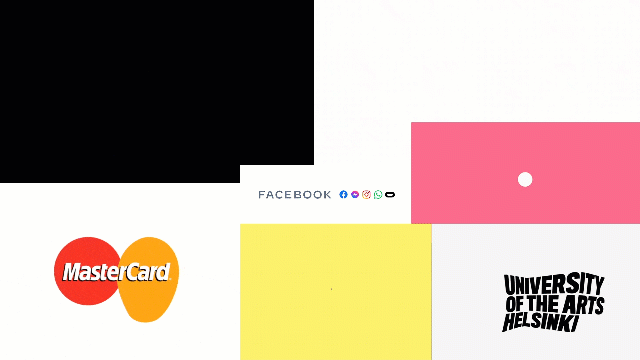 A great logo animation can help your audience to remember your logo and brand. Eyes are drawn to visuals and motion.
Animating your logo can also give a sense of innovation, and individuality to your brand. Your logo now tells a story instead of just being a static element.
At Callouts studio, we already offer a large number of Animated Logo intro templates.
And there are many other services out there where you can animate your logo.
I will give Animated Logos a trend score of six. what do you think, let me know in the comments.
Ending thoughts, and upcoming…
That's ten video design trends my gut tells me to keep an eye out for in the near future.
Content is important. But the way we choose to deliver that content is also important, and as new delivery trends are emerging, I wanted to include a section about video delivery formats.
But to keep this video reasonable in length, I decided to split it up into two parts. So, watch out for Trends in Video Delivery, coming soon.
I hope that this video gave you some inspiration and got your creative juices flowing.
What do you think? Which trends will you use in your video project? Let me know in the comments.
Thank you for checking this out and see you soon!
Summary of Services used
Here's a quick summary of the different tools used to create the video.
AI Enhancement
Runway, 30+ AI Tools: https://runwayml.com/
Pictory, Create short videos from long-form content: https://pictory.ai/
Descript, Remove background sound/Enhance sound: https://www.descript.com/?lmref=YepegA
Adobe Podcast, AI-powered audio recording, and editing: https://podcast.adobe.com/
(includes free Enhance Speech, and Mic check)
AI Generative
Google Imagen Video (coming soon?): https://imagen.research.google/video/
Meta Make-a-video (coming soon?): https://makeavideo.studio/
3D Software (free and trial)
Blender, fully featured free 3d software: https://www.blender.org/
Spline, web-based 3D, (free+paid): https://spline.design/
Windows 3D Builder (included with Windows): https://apps.microsoft.com/store/detail/3d-builder/9WZDNCRFJ3T6?hl=es-es&gl=es&rtc=1
Callouts 3D resources Graphics: https://www.callouts.com/all-files/3d-graphics/
Callouts 3D resources Videos: https://www.callouts.com/all-files/hd-video-backgrounds/?s=3d
Avaturn, create 3d Avatar, free: https://avaturn.me/
Blobs
Callouts, Camtasia animated blobs: https://www.callouts.com/download/camtasia-animated-blobs-templates/
Callouts, blob graphics, and video: https://www.callouts.com/?s=blob
Retro/Nostalgia
Adobe Stock 80s (free+paid): https://stock.adobe.com/
Callouts 8-bit sound fx (time-limited): https://www.callouts.com/download/8bit-sound-effects-megabundle/
Gradients
Callouts, gradient assets: https://www.callouts.com/?s=gradients
Virtual Talking Heads
D-ID, produce customized videos featuring talking avatars (free trial): https://www.d-id.com/
Syntesia, quickly create videos with AI avatars (paid): https://www.synthesia.io/
Elai, build customized AI videos with a presenter (free 1 min. trial): https://elai.io/
Revoicer, realistic AI text to speech (paid): https://revoicer.com/
Animated Logos
Callouts Studio, custom made animated logos (paid): https://www.callouts.com/studio
More Trend Reports
For the tools and services used in the different trends, I've included links under each section above.
Here are a number of additional trend reports that you may find interesting.
VidIQ – 4 YouTube Trends to Skyrocket Your Views in 2023
Medium – 2023 visual design trends guide
Brandwatch – Digital Marketing Trends 2023
CreativeBoom – The biggest trends in graphic design for 2023
Arisen – Top 10 YouTube Trends 2023
Shutterstock – Top Design Trends to Watch in 2023
Digital Marketing Institute – Top Digital Marketing Trends for 2023
Hubspot – What Video Marketers Should Know in 2023, According to Wyzowl
Philip VanDusen – 15 Graphic Design Trends for 2023
Envato – Graphic Design Trends 2023
Will Paterson – 5 MASSIVE Graphic Design Trends in 2023?
Malewicz – 2023 Design Trends